8 Headline Types You Need to Know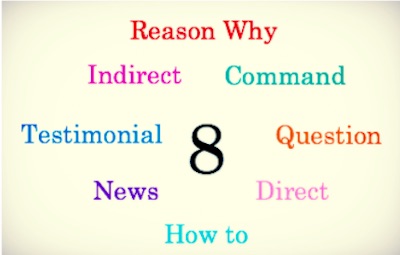 Do you ever struggle to write compelling headlines? Ones that will grab attention, pull in prospects and get them to read on? If so, you're not alone.
Many of us—yes, even writers like me—get stuck from time to time. Luckily, there's a way to get unstuck.
The list below outlines eight basic headline types that have been used to sell all kinds of products and services in countless industries. Use them to engage your audience and get your message across.
#1 – Direct Headline
This is a "tell it like it is" headline. No gimmicks, no clever wordplay, no hidden meanings. Just the facts.
Example: College Recruiting Tips for Players and Coaches
#2 – Indirect Headline
With this type of headline, you don't directly state your point. Instead, you hint at it. This raises questions and arouses curiosity … compelling your customer to read further.
Example: Take Your Office to the Cloud
#3 – News Headline
This headline works well if you have an announcement to make about your company or products.
Example: Mars India Chooses Solatube for Sustainable Lighting Solution
#4 – How to Headline
Your customers are looking for a solution to a problem. This headline tells them clearly that you have the solution.
Example: How to Improve Solo Blocking
#5 – Question Headline
If a question is asked, it's ingrained in us to respond. Use this headline to engage your customers. Just be sure the question focuses on your customer's needs, wants and desires … not your company's.
Example: Are You Living the Life You Deserve?
#6 – Command Headline
Sometimes telling your customer what to do is the best strategy. Use strong verbs for maximum impact.
Example: Elevate Your Game with Real Technology
#7 – Reason Why Headline
This popular header type alerts customers that they're about to read a "list" article. Often, the list ties to a product's features and benefits. This approach makes writing body copy relatively easy.
Example: 5 Reasons Your Mancave Needs Daylight
#8 – Testimonial Headline
Testimonials work because a satisfied customer is doing the selling, not you. It offers objective proof that your product works. Use the customer's actual wording to make it believable.
Example: "It Shoots Into the Air Like a Cannon …"
With these eight header types in your content development tool belt, you'll be able to write effective headlines that get attention, drive your audience to take action, and make the sale.